Junaury, 2008
Due to the inner sand band Ocean linear vessals are getting difficult to come alongside to the port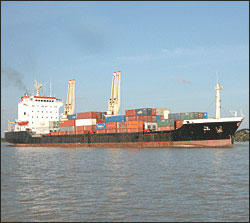 The place where Yangon river , Pegu river and Puzuntaung creek meet has a sand band called Inner bar , so big vessals can not come in and alongside to the port all the time,said Myanmar Port Authority.
The shallowest place of the sea vessal route is about 13m at the low tide, that is why 15000 tons vessal can go through at the highest tide, but the authority has not given the permission yet.
"At the right now, sand band is being digged up everyday.In july and august when mud contain in water is low, digged up four times everyday. When mud water is very thick in February and March,MPA digged up eight times everyday, each time digs up 500 sqm, said the authority.
There is no plan to break down the" inner bar" sand band at now, if the plan is carried out , the river route will get mo;re curve at someplace,and it is more dangerous to travel at bad weather.
Before the world war II English engineers led the plan to destroy the sand band,but when WWII broke out, the plan was stopped.Until now the plan to destroy had not been carried out yet, but just to dig up the sand band.

---

December, 2007
Shipping Companies in High Demand due to Economic Boom.

The sky high oil price made the transportation cost expensive around the world in 2007. Meanwhile , the booms of the China and India's economies demand the need of the transportation sector at the critical point. Similarly, Myanmar Shipping Industry got a new boost from the government as it paved the way for private shipping companies. Following is the review of the Interview with Hapag Lloyd agent (Aquamarine Shipping) by Mai Nyein Moe Kyi Aung in eTrade Myanmar web site.

---
Myanmar presence of Hapag Lloyd was established in March 2007 operating around 100 own containers under its principle Hapag-Lloyd South East Asia - Mayalysia. Although the principle company is based in Germany and most of its shipments headed to Europe (United Kingdom, Germany, Italy, France), shipments from Myanmar is more for Asia market due to economic embergo. Normally Buyers instruct corresponding agents in Malaysia and Singapore and shippers in Myanmar just follow the instructions. Orders from Europe tend to transship via Singapore and China and Taiwan are major countries for the shipment in Asia and India ranked third. Items that top the list of shipment are garments on CMP basis, Timber, and agricultural produce. Import items are Chinese machinery and tyres, machineries from Europe and construction material from various countries. Comparision with 2006, about 40 container less was handled in 2007. There were 40 to 50 containers shipped to Asian Countries. Trends in shipment is more to the Asian countries as major items are Timber, Agri products and Garments which are normally shipped to other Asian Countries regardless of the trade embergo which only affected Timber. ACL and Five Star are Lines of choice which mostly uses Asia World and Bo Aung Kyaw Port.
When asked if there were any difficulties in shipment, Weather, timing schedule (in the contract) and paperworks are major points and Hapag Lloyd facilitate to the best of its abilities. Guarantee on timing schedule, however, is not applicable.

Recent Internet interruption affected shipping industry heavily as they rely on internet from booking space to tracking schedule and B.L issue. The whole industry came to a grinding halt during the connection interruption due to September unrest in Myanmar. Much less cargo bookings were received aftermath of the crack down on protesters. In 2006 Novermber and December, the price of 20 ft. container was around 450 USD but fewer were willing to pay 300 USD for the same container due to lots and lots of empty containers sitting idle incurring storage charge. It was also due to lesser demand. High Season for the shipping lines are in January to May -the peak export season of Myanmar. Timber, however is all year round.

Forecast for 2008 will be much better than 2007 but 2007 fared badly compared to 2006. Based on the fact that China and India are eyeing Myanmar as business partner and the tendacy of those emerging Asian economies to back Myanmar in the foreseeable future, cargo shipment demand will rise in 2008 and beyond. Sanctions might be a threat but the major trading partners would care less for American Sanctions. Therefore shipping industry has to presume wait-and-see stance as in all other business frontiers.
---